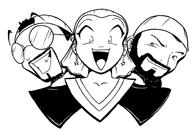 CURRENT
Danny Valentini
Danny Valentini founded Wacky Warm-Ups Creativity Services in 1989 as a trade name for his creative works. His creations, for the most part, were scripts and stories until 1995, when he decided to pick up some pens and pencils and teach himself to draw. Becoming a well-known face at anime conventions up and down the east coast, Danny launched what would become his signature creation, The Draconia Chronicles, in 1999 with the Draconia 2000 Calendar. Danny holds several publishing credits through such companies as Antarctic Press and Shanda Fantasy Arts.
Others
Donnie Sturges
Donnie is an all-around fan of the world of comics, and in 2002, he turned that passion into a career by signing on as the head writer for what would become The Draconia Chronicles. Since then, he's expanded his writing career to another comic, Psycho Dreamatic, and even into articles for print and web-based magazines. Donnie serves as the de facto general manager of 2wcOnline, and handles most of the footwork for our convention appearances.

Jamie Sturges
A long-time member of 2wcOnline, Jamie's signature creation, Why So, has finally seen the light of day on 2wcOnline after brewing in her imagination for over a decade. Jamie holds a master's degree in English, thus making her our resident grammarian and brainiac. While not a currently active member of 2wcOnline, she still acts as an occasional contributor and advisor.
Others Still
Wendy Dodson
Wendy got into this whole mess by sheer accident in 1999. Her ability to keep track of everything helps keep the business in line, and her ideas often become realities in the way of company marketing strategies and new product lines. She is also training to become a colorist and inker so as to ease Danny's workload.
Giorgio Valentini
Yeah, he's Danny's big brother, but it never hurts to have a connection in the printing business. Giorgio handles the company's Internet needs and hooks us up with printers and others who help the ²wc stay competitive. Giorgio is also president of Genesis Web Design and Graphics, a company that works closely with the ²wc.
Jen Starling
The only member of 2wcOnline to hold an actual art degree, Jen Starling holds a BFA in the field of sequential art from the Savannah College of Art and Design. Joining 2wcOnline in the fall of 2004, she lent her talent to adding the shades to The Draconia Chronicles. Her latest project, Tales from New Winter, is 2wcOnline's second webcomic and takes full advantage of the kinetic style that is her trademark. Published work includes illustrations for Generation Gap by Firestorm Ink, promotional illustrations for Chesapeake Bay Academy, and independent commission work. Jen has also done several guest strips for affiliate "Why Me Studios" webcomic, Aozora.
Jason Cumberledge
Jason Cumberledge joined 2wcOnline in the fall of 2004 and became the letterer on The Draconia Chronicles. A prolific artist, he has been a staple at 2wcOnline's convention tables for the past two years making a name for himself. Published works include submissions to Antarctic Press' Gold Digger Swimsuit #5 and #6. Purrsia Press Swimsuit Issue for 2003.
Renee Starling
Joining 2wcOnline in the fall of 2004, Renee Starling took over website duties in mid-2005 with the launch of 2wcOnline ver 4.0. Collaborating with her sister, Jen Starling, Renee helped to create Tales from New Winter, with Renee adding her scripting to her sister's dynamic pencils. An avid costumer, Renee has actually made her hobby into a profit by working on individual commissions and working with Virginia Musical Theatre in their production of CATS.
Pages in category "About the Comic Creators"
This category contains only the following page.
Ad blocker interference detected!
Wikia is a free-to-use site that makes money from advertising. We have a modified experience for viewers using ad blockers

Wikia is not accessible if you've made further modifications. Remove the custom ad blocker rule(s) and the page will load as expected.